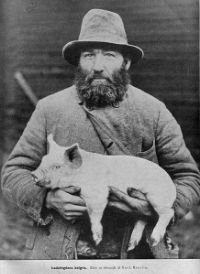 Our fearless Agonist editor steeleweed deserves kudos for his weekly explorations of bacon – More to Life than Bacon. It carries some significant risks, as indicated below.
Manchester Evening News 15 Jun 2013 11:58
An IT contractor claims an off-the-cuff remark about a bacon butty cost him a dream £1,000 a week job.
Clive Hunt, 58, says he was offered the eight month contract with the NHS after attending an interview set up by recruitment firm Reed.
But he says he lost out on the job he should have started last Monday after he told a recruitment consultant he would 'get the bacon sarnies in'.
The married dad, from Heywood, said he wasn't aware he had offended recruitment consultant Sharika Sacranie, 29, who he met at the firm's offices in King Street, Manchester, to finalise paperwork, until he received a phone call from a senior manager. Mr Hunt said: "After we shook hands she said that she would come over to meet me on site with the other contractors and take us for breakfast. My parting words to her were 'I will buy the bacon sandwiches'.