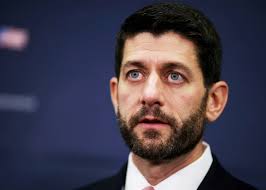 Outside the Beltway, the right is livid with new Speaker Paul Ryan's trillion-dollar spending deal with Democrats.
Conservative pundit Ann Coulter says Ryan, just seven weeks on the job, is ripe for a primary challenge. "Paul Ryan Betrays America," blared a headline on the conservative site Breibart.com. And Twitter is littered with references to the Wisconsin Republican's new "Muslim beard."
Source: Fury of the right falls on Ryan | TheHill
Did anyone think that Paul Ryan had a chance of herding the Republican cats in the House? If so, I'd say you should go back to huffing exhaust fumes.
But in a nod to the critics, Ryan has also emphasized that he "inherited" the flawed omnibus from his predecessor, ousted Speaker John Boehner (R-Ohio), and that the cake was "already baked" by the time he was handed the reins in late October.

Those arguments have done little to sway some of Ryan's critics, particularly on conservative talk radio.

Laura Ingraham denounced the spending package as an "omni-bust" and said Ryan should be "regarded as a declared enemy of the Base." Mark Levin said Ryan is "already a disaster" and criticized the funding package for increasing the number of visas for foreign workers.

Criticism has also come from Rush Limbaugh, the king of conservative talk radio, who declared that the GOP sold the country "down the river."
There is no chance in hell that the Republicans in the House are going to be able to work together and accomplish anything remotely resembling sane government. The remnants of the Tea Bagger……. err, I mean Tea Party brigade are as yet uncowed, and still of sufficient numbers to stonewall any attempts at serious compromise; especially when egged on by the hard right conservative pundits. That Ryan didn't dismantle the bi-partisan coalition allowing for the passage of the budget at least shows he wants to be productive. But he doesn't have the numbers, any more than John Boehner did, to be strictly partisan in running the House of Representatives.
In the end it all comes down to whether the hard-line conservatives want to have total, uncompromising power, or whether they want to be leaders. They can't have it both ways.